Elvin Jones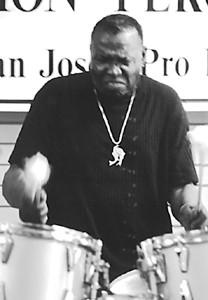 Another really poor photo of Elvin Jones... I have to say, the people at the clinic announced right before the show that flash photography was prohibited. My memory is fuzzy now (sort of like this picture) but I could swear I'd called ahead to verify that I could could a flash... Well, whatever. I've never been back to Lemmon Percussion.

Image ©1997, matthew mcglynn.
Part of the The Drummer Gallery -- You can tell a friend about this website!
This image has been viewed 90 times.